TNT Tooling WSA Wire Stripping Tool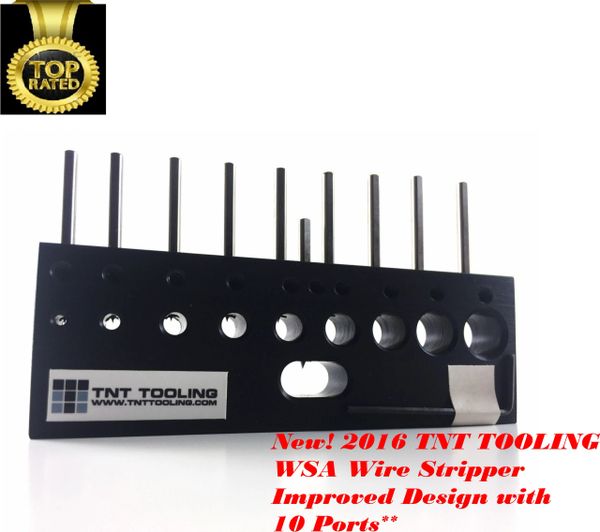 TNT Tooling WSA Wire Stripping Tool
TNT Tooling WSA Wire Stripper
Redesigned 2016 Model (Includes an additional port and blade, strips a wider range of wire sizes, and ports are beveled to make starting a wire easier.)
WSA Wire Stripper w/ 10 cutting blades manufactured by TNT Tooling. Also, includes the Allen wrench for the cutting blades. A manual pocket sized scrap wire stripping tool for recycling copper wire and Romex.
The WSA is a high quality
precision made tool built to strip scrap wire. Stripping insulation from scrap wire is faster, easier and safer with the WSA Wire Stripping Tool. Designed to strip solid and stranded scrap wire gauges ranging from 22 to 3 AWG. An oval port exists to strip the sheathing from Romex.
Undamaged oil free insulated wire and Romex work best. Not recommended for stripping damaged oily material.
Securing the WSA in a sturdy bench top vice is recommended for best results. Using a bench top vice with the WSA frees your hands to pass wire through the tool.
If a blade becomes dull it can be changed out with one of the other nine blades or it can be re-sharpened.
Blade depth is adjustable using the included Allen hex key wrench to adjust the recessed hex set screw.
Great tool for electricians, e-scrappers, scrappers looking to cash in on recycling scrap copper wire.
Specifications

Wire Gauge Range

22 to 3 AWG and Romex

Tool Ports

Nine circular ports for standard round wire.
One oval port for Romex. Ten Total.

Blade Material

Hardened High Carbon Tool Steel

Number of Blades

Ten

Blade Misc.

Blade depth is adjustable. Blades are interchangeable between ports.
Allen Hex key wrench (1/16) is included for recessed set screw that enables blade adjustment or removal.
Blades can be re-sharpened as needed.
Blade is angled.

Tool Size

Pocket Size -
Block: 4.5" W x 1.5" H x 0.5" D
Blade: 1.5" Long

Tool Weight

6 Ounces

Tool Material

Tool Block is Rust

Resistant

Aluminum

Tool Color

Block is most

commonly

Black, Blue, or Gray

Process-able Material

Undamaged Oil Free Rubber and Plastic Insulated Wires and Romex
Please contact us if you have any further questions. We will respond to you within a business day.
We process warranty replacement claims if you purchase the WSA from us. Just send it to us for a replacement in the unlikely event the WSA is defective.
Buyer has 14 days after receiving the item to return it for: money back. Buyer pays for shipping. Product must be in its original new condition and not show any signs of use, wear, or damage. The return must include all parts, accessories, and pieces. Please contact tsesaleinfo@gmail.com for more information.